Winter Care in Brevard County
Greetings and Happy New Year. This time of year, the major concern is winter protection. Since I live in central Brevard with a pond behind my house, my micro-climate is usually a few degrees warmer than the general Melbourne ambient temperature. That increased temperature helps protect my tropical bonsai in winter. Nevertheless, I still watch the temperature and look for freeze warnings. I study the forecast to determine if I need to cover the plants or bring them indoors. If there looks like we will get below thirty F I protect the trees via the "bonsai tango" (that is, I bring them into my garage.) The big ones I just move to the ground and cover with an old bed sheet or plastic. I continue to watch the weather and return the trees to their pedestals when the temperature warms up over 33 F. I have never erected a greenhouse but if you have the space and money that is not a bad idea. The trees would do better all winter as most tropical species will slow down and sulk if the temperature is below 45 F, but they won't die unless it's freezing. A greenhouse provides all season protection. If it looks like it might hover near 32 for a few days, I might erect a cold tent by dropping plastic over my bench with the trees underneath as in the photo.
Tree Care Recommendations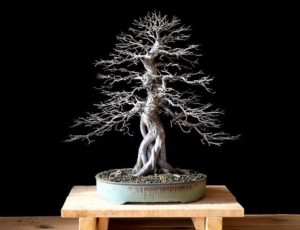 Now is the time for repotting temperate and deciduous trees.
My schedule starts around Thanksgiving.
Thanksgiving to Christmas – repot Podocarpus
Christmas to New Year – repot Japanese Black Pine and Junipers
New Year to end of January – repot rest of temperate trees – Elms, hackberrys, Bald Cypress, Silverberry, etc.
If you live further inland or in the northern part of the county, you can delay the schedule by 2 or 3 weeks.
The other thing to do this time of year is think about what trees you might want to show at the BSF convention, or at the BSOB show or any other shows. Now is the time to work on branches rewire and freshen up the soil.
---
Rob Kempinski
Rob is an internationally recognized bonsai artist and author. He enjoys teaching bonsai at all levels and introducing newcomers to the pleasing art of growing miniature trees in a container. Rob has written many articles for bonsai magazines and journals. He has published several books, many on the art of bonsai.
---
Bonsai Society of Brevard
For more detailed information contact our Brevard based Bonsai club.
The Bonsai Society of Brevard is one of the many clubs within the Bonsai Societies of Florida.