Hurricane Ian Strikes
For the most part Brevard country was spared the full wrath of Hurricane Ian. Prior to the storm I watched the forecast carefully and maybe put too much faith in it but I did not move any of my trees indoors. On Thursday we did have gusts over 50 mph that forced me to move some of my trees to the ground. Damage in my yard was minimal. My thoughts and prayers are with our fellow Floridians who suffered much more greatly in the storm. The hurricane season lasts until the end of November, so this storm served as a good reminder to develop a hurricane contingency plan not just for your trees but for your family as well.
Prior to the hurricane Brevard had so much rain my watering system was off for nearly the whole month of September. This much rain means for certain trees, like Japanese Black Pines, Junipers and Elephant Jades, they might be getting too much water. Preventative measures include having well-draining inorganic soil, application of fungicide, and fertilizer as the rain washed the nutrients away. That was the bad news. The good news was my tropical trees loved it and grew vigorously. Now as the days get shorter and temperature drops a bit (it was 65 F this morning at my house) the tropical trees will start to slow down. This is especially true for the real tropical bonsai such as Salt Bush, Nea buxifolia, and Headache Tree, Premna obtusifolia. They start having leaves turn yellow and drop. Of course, the deciduous trees will start doing the same. The hurricane did speed up the process a bit by blowing many leaves off the trees. When the trees go dormant you can stop fertilizing and cut back on the watering.
October is a good time to consider winter protection. I usually do not provide special protection for the winter but this year I might try making a small green house to see how some trees do maintaining a warmer environment when a few cold days appear.
Taiwan Hwa Fong
When searching for inspiration I recommend Florida growers look towards Taiwan. The tropical trees top global standards and match the species we can grow in Florida. The Taiwanese clubs recently put on the Hwa Fong exhibit where 26 regional clubs send a select ten of their member's trees to a national show. This Chinese Juniper is a sample. Grown from a cutting for 60 years it shows how amazing bonsai can be without collecting and destroying the wild.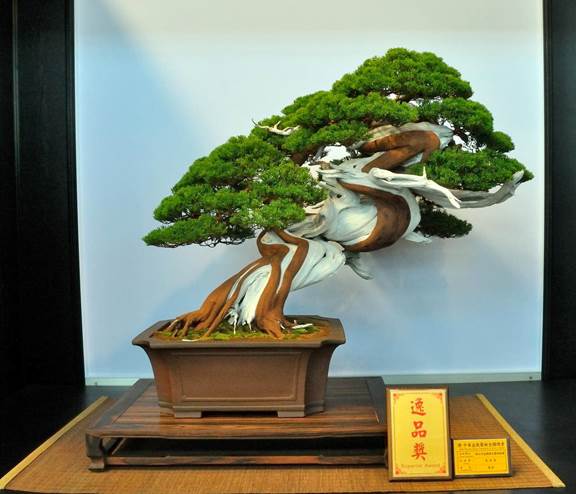 The cover of my book features a bougainvillea I photographed at a Hwa Fong exhibition.
Weeding Frequently Keeps You in Control
Finally, I weed my trees pretty much every day. If I see a weed pop I pull it. This way I can keep the weeds under control. However, this time of year there is one exception. The two little sprouts in this bonsai Headache Tree are Lawn Orchids, Zeuxine strateumatica.
Lawn Orchid History
More information is from this web page https://www.chronicleonline.com/lifestyle/home/janes-garden-lawn-orchid-in-florida/article_550b23cc-e802-58e9-8176-2f9a707a683d.html "First described in 1826, Soldier or Lawn Orchid was introduced into Florida by seeds in a shipment of centipede grass from China about 1927.
By 1936, the first photographs were in Feldsmere, Florida near the Sebastian River and Vero Beach. By 1940, it had spread from Jacksonville to Miami. It has since naturalized throughout peninsular Florida and since naturalized throughout peninsular Florida, across the Southeast Coastal Plain from Texas to Georgia and in Hawaii and parts of California! However, is not considered invasive nor seems to disrupt natural habitats.
This terrestrial orchid can grow in various habitats like lawns, grasslands, roadsides, floodplains, forests, meadows, and woodlands. It has dark green leaves when grown in shade but reddish-brown leaves if in full sun. Five or more alternate narrow leaves are arranged spirally on the stems. Plant height is up to 10 inches tall when in flower.
The top of the stem bears an inflorescence, spike, or cluster of small white flowers. The lobed flowers have a yellow to creamy white labellum petal that attracts tiny insects. As the flower has no nectar spur, it likely self-pollinates. Soldier or Lawn Orchid bloom between November to about May, depending on location.
The parent lawn orchid plant disappears in summer after setting seeds. Hundreds of seedlings can grow nearby and bloom next season. New plants can grow from underground parts.
---
Rob Kempinski
Rob is an internationally recognized bonsai artist and author. He enjoys teaching bonsai at all levels and introducing newcomers to the pleasing art of growing miniature trees in a container. Rob has written many articles for bonsai magazines and journals. He has published several books, many on the art of bonsai.
Bonsai Society of Brevard
For more detailed information contact our Brevard based Bonsai club.
The Bonsai Society of Brevard is one of the many clubs within the Bonsai Societies of Florida.