It's getting hot just in time for the Bonsai Society of Florida Convention
May brings the Bonsai Society of Florida convention. This year it again will take place at the Florida Hotel in the Florida Mall, Orlando. The highlight of the convention is Club Night and BSOB has been working on its project for the past few months. Let's see as many club members as possible come to the event to cheer on our team, while heckling the other teams. It will be Saturday night and a great way to enjoy the convention.
Hot weather has arrived and time for repotting tropical trees. In my collection I have to repot at least 100 trees so it will be a busy early summer. For most trees I use 1/3 lava, 1/3 pumice and 1/3 akadama. I sift these components to remove the dust and fine particles. However, for some trees that like a lot of water, for example, Headache Tree (Premna) and Sea Hibiscus I will add some regular potting soil to the mix. After trimming the roots and resetting into the pot, I give the trees a good watering and then some Starter solution.
As the temperatures warm up, our humidity is still fairly low. This means some bonsai might need multiple watering in a day. The tropical trees should be going through growth spurts and need water. Watch the soil and the leaves. If the soil surface is dry in the top ¼ inch or if the leaves show signs of wilting then water again. I recently enjoyed some flowers on this exposed root Bush Clock Vine (Thunbergia erecta). This is s a new species for me and I will repot this summer and see how it does.
And speaking of new species, it's great to experiment with different species as bonsai but keep in mind that most of us have limited space and time. If trying a new species research as much as possible about the tree. Ask fellow club members for advice, local master gardeners, check gardening and bonsai books, and of course the Internet. The number one mission is to keep the species alive long enough to find out what it likes. If you can learn about the tree's local habitat then that should be a clue to what to replicate in a pot.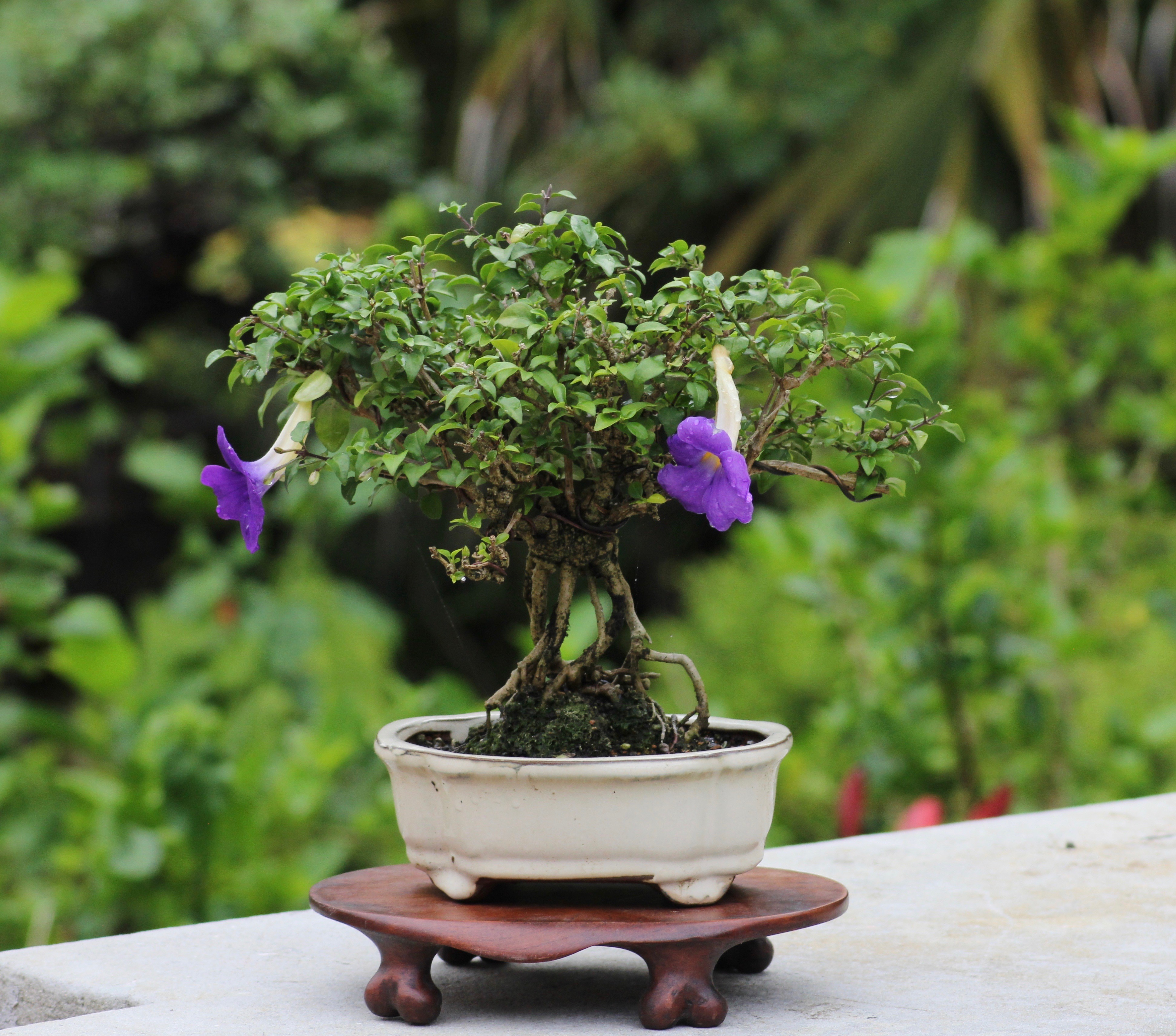 The Hammock Velvetseed (Guettarda elliptica) is another species I've been trying for the past few years. It is the last tree in my collection to lose its leaves and put on new leaves. In fact, it just lost its leaves in early May and is now pushing new growth. It's a native south Florida tree that has durable hardwood, small leaves and paired branches. Mine has lots of deadwood that caused me to name it the Pelican. As far as I can tell, I might be the only one with this species in a bonsai pot. If you know of any others, please let me know.
See you at the convention.
---
Rob Kempinski
Rob is an internationally recognized bonsai artist and author. He enjoys teaching bonsai at all levels and introducing newcomers to the pleasing art of growing miniature trees in a container. Rob has written many articles for bonsai magazines and journals. He has published several books, many on the art of bonsai.
Bonsai Society of Brevard
For more detailed information contact our Brevard based Bonsai club.
The Bonsai Society of Brevard is one of the many clubs within the Bonsai Societies of Florida.