Bonsai Society of Florida Convention Report
We had a fun time at the BSF convention over the Memorial Day weekend. The highlight had to be the Club Night always my favorite activity of the convention. Thanks to Jan Barnes, Jane Mandeville, Scot Stewart and Roman Mariacher for working on the Pangea Planting. Also thank to Ronn Miller for the slab and muck and Bruce Hartman for the support. Our creative minds pushed the boundary a bit and also made a nice-looking forest planting. I suppose we can get the wheels turning for next year.
The BSF convention exhibit featured several trees from BSOB Members. Bruce Hartman displayed a large Brazilian Raintree that has been in his and other BSOB members care for a long time.
I showed a Florida Elm with a complement of a Texas Ebony. The Texas Ebony was in a pot I made that broke when I dropped it getting ready for the show. Despite having an emergency repot, one of the headliners, Liliana Ortiz, liked it so much I gave it to her as a goodwill gesture between Florida and Columbia.
I also showed a small tree display that alluded to a Japanese No play, called Hachi No Ki. (see figure)
Reggie and Cossette displayed two trees a Florida Privet and Willow Leaf Fig.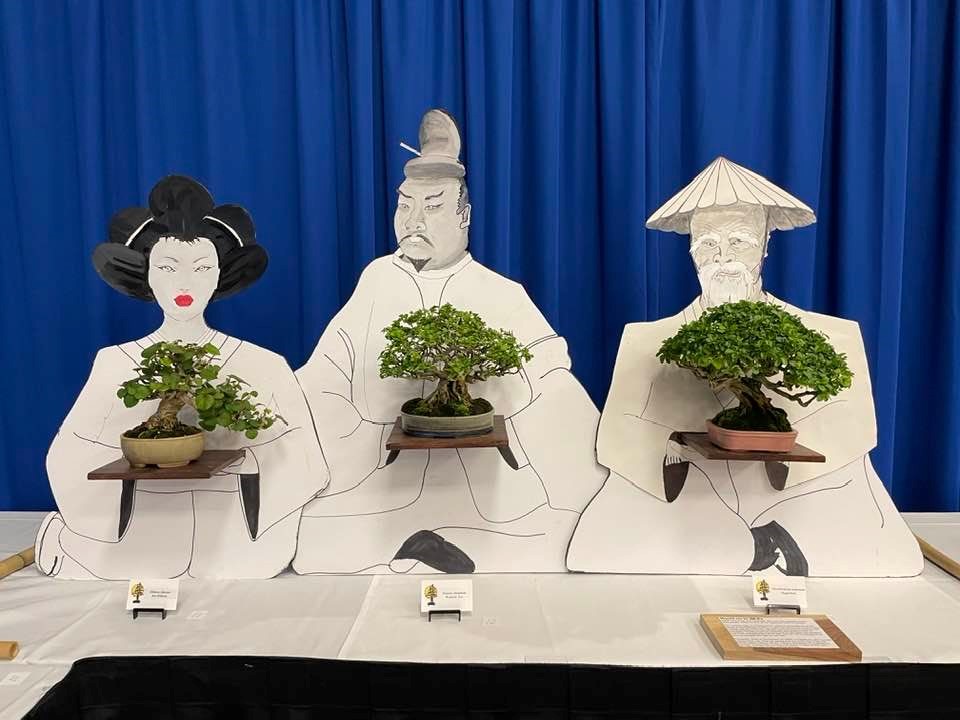 And finally, the Japanese Black Pine Forest that BSOB voted to represent the club won an award as the best Forest.
With the close of the convention, I am repotting a bunch of tropical trees.  I have to do it now that the evenings are above 70 degrees F.  Typical Florida afternoon showers also mean it time to pay careful attention to Japanese Black Pine tree watering.  Too much water encourages fungus and possible root rot.
---
Rob Kempinski
Rob is an internationally recognized bonsai artist and author. He enjoys teaching bonsai at all levels and introducing newcomers to the pleasing art of growing miniature trees in a container. Rob has written many articles for bonsai magazines and journals. He has published several books, many on the art of bonsai.
Bonsai Society of Brevard
For more detailed information contact our Brevard based Bonsai club.
The Bonsai Society of Brevard is one of the many clubs within the Bonsai Societies of Florida.